Cruising to Italy from North America
How to get from the U.S. to Italy by cruise ship
www.cruisedirect.com
www.cruisecompete.com
www.cruisecritic.com
www.smallshipcruises.com
Tours & Activities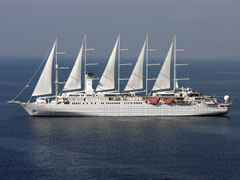 A masted cruise ship in the Bay of Naples off the Amalfi Coast gateway town of Sorrento.First the bad news: while it's a snap to fly to Italy and simply take a Mediterranean cruise once there, there are no regularly scheduled direct transatlantic cruises from the U.S. to Italy.
However, if your heart is set on a transatlantic cruise, there are two ways to achieve this.
First, the most obvious option: you take the classic Queen Mary 2 cruise from New York to Southampton, England, catch a train to London, and then fly down to Italy on the cheap using a no-frills airline (a sailing variant on the Big Beg Switcheroo).
The other option is to find a seasonal repositioning cruise that will, indeed, take you directly to Italy—though this really only works in the spring, when cruise lines are sending their boats over to Europe for the summer cruising season (and—if you want to cruise home from Italy, again in the fall when the ships are being moved back). Details below.
Here a bit on Italian cruises, and then a short take on how each version of Transatlantic cruising to Italy can work.
Italian cruises
Ah, sailing the Mediterranean, stopping at fabled ports like Naples, Venice, and...Civitavecchia?
Yes, well a few of the standard Italian cruise stops have unfamiliar names because they are actually the ports of call for more famous inland cities—in the case of Civitavecchia, it is Rome. To visit Pisa or Florence (or elsewhere in Tuscany) the port you want is Livorno.
All cruise itineraries are quick to point this out, either listing the major city or cities in parentheses after the port (or, a bit misleadingly, putting the name of the port in parentheses). But it helps to know. It also helps to know how to get into those cities from the port—rather than pay the inflated fees for the ship's shuttle service. » more
As for finding a cruise that includes Italy, that's best left to the cruise discounters—who always charge less than the cruise lines themselves, and/or throw in great benefits and freebies (their ability to buy in bulk lets them negotiate better deals than you ever could going it alone). » more
The Big Ben Switcheroo: Nautical Edition (cruising to England; flying to Italy)
Now that the fabled QE2 (QEII, technically, refers to Her Majesty Elizabeth, Queen of England; QE2 refers to the big boat) is headed for a retirement moored in Dubai, the premier ship crossing the Pond is her niece, the Queen Mary 2.

The main differences between the Queen Mary 2 and repositioning cruises:

Frequency: The Queen Mary 2 journeys happen every week from April through October. Positioning cruises only happen at the beginning and end of the season (and only in one direction).

Duration & variety: The Queen Mary 2 makes the trip in a swift six nights, with no ports of call between New York and Southampton. Repositioning cruises—though some speed it along in eight days or so—usually take a leisurely two weeks (sometimes even longer), throwing in ports of call along the way, often at both ends: a few in Europe and/or North Africa, a few in the Caribbean and/or South America.

End points: The Queen Mary 2 always shuttles between New York and Southampton, England. Repos. cruises tend to focus on Florida on this end, and may end up anywhere in Europe on the other (though the Mediterranean is popular).
April through October, she crisscrosses the Atlantic Ocean between New York, NY and Southampton, England on six-night journeys starting as low as $509 per person in a cabin for two (plus about $400 per person for the one-way airfare, and another $50 or so in taxes and fees) when booked via a broker such as CruiseDirect
(www.cruisedirect.com).
From Southampton, you can take a train to London (a 90-minute trip, with trains leaving every 15 minutes), then from there grab a low-cost airplane ride to just about any city in Italy you can think of—not just Rome and Milan, but Venice , Pisa, Naples, Palermo... you name it. » more
Repositioning cruises (sailing directly to Italy)
Most cruises ships spend half the year (the winter) on this side of the Atlantic (mostly cruising the Caribbean) and the other half (the summer) on the European side, cruising the Mediterranean, Adriatic, Aegean, and North Sea.
That means, twice a year, they have to reposition the boats from one side of the Pond to the other. Some make a straight-arrow journey—leaving from a port like Miami or New York, sailing for 5-6 days, then putting in in England, Spain, or Portugal. (If they're making all the way for Italy, they make make a few more stops in Spain and Portugal and maybe France along the way.)
Other transatlantic repositioning cruises take a more leisurely two weeks and call at a dozen other ports in the Caribbean and Europe along the way.

These globe-trotting cruise ships tend to head over to Europe in March and April and come back in September and October (some linger into November and even December), when hurricane season is winding down and Caribbean cruises come back into high demand.
Rates for these repositioning cruises start around $599 per person for two sharing a cabin. A few samples (from 2010 sailings):
Apr. 10: 14 Night Transatlantic Cruise on Norwegian Cruise Line's Norwegian Gem
New York to Venice, Italy (via Ponta Delgada, Azores, Portugal, Lisbon, Portugal, Cadiz (Seville), Spain, and Malaga, Spain) - From $639.
Oct 30: 14 Night Transatlantic Cruise on Norwegian Cruise Line's Norwegian Gem
Venice, Italy to New York (same trip as above, backwards) - From $839.
Apr. 10: 14 Night Transatlantic Cruise on Royal Caribbean International's Navigator Of The Seas
Miami, Florida to Civitavecchia (Rome), Italy (via Tenerife, Canary Islands, Spain, Barcelona, Spain, and Nice, France) - From $799.
Oct. 23: 14 Night Transatlantic Cruise on Royal Caribbean International's Navigator Of The Seas
Civitavecchia (Rome), Italy to Miami, Florida (same as above, backwards) - From $919.
Apr. 3: 16 Night Transatlantic Cruise on Holland America Line's Eurodam
Fort Lauderdale, Florida to Civitavecchia (Rome), Italy (via Lisbon, Portugal, Portimao, Portugal, Cadiz (Seville), Spain, Almeria, Spain, Ibiza, Spain, Barcelona, Spain, and Monte Carlo, Monaco) - From $1,199.
Of course, these cruises are one-way, leaving it up to you to find airfare to or from Europe and also to or from New York or Florida (or wherever the domestic end of the cruise is).
Where to find and book transatlantic cruises
You should never book a cruise directly with the cruise line, but rather via a travel agent or a cruise specialist, which have the power of buying in bulk to get better rates and loads of extras and freebies (on-board ship credits, free booze, and other perks). I suggest using an aggregator or cruise discounter, as detailed on the Cruise Savings page, but for a start:
CruiseDirect
(www.cruisedirect.com) - One of the top cruise discounters in the business, consistently underselling the higher rack rates you'll see posted on the web sites of the cruise companies themselves. CruiseDirect.com even has a last-minute
page with discounts on soon-to-leave ships.


Cruise Compete (www.cruisecompete.com) - You know the commercials for LendingTree.com? That whole "When banks compete, you win..." spiel? Well this the same thing for cruises. You put in the date and destination and ship (any or all of those), and it sends your cruise request to a whole bunch of cruise brokers and discounters. Each of them then contacts you with a quote on how little they can do that cruise for you. Basically, it does the shopping around for you, pretty cool, huh?

Cruise Critic (www.cruisecritic.com) - Independent Website devoted to cruising in all its forms.

Small Ship Cruises (www.smallshipcruises.com) - Just what it sounds like: booking with dozens of outfits that offer cruises, usually on smaller ships, often those cool tall masted ships.
Related pages
This material was last updated March 2010. All information was accurate at the time.

about | contact | faq

» THE REIDSITALY.COM DIFFERENCE «

Copyright © 2008–2013 by Reid Bramblett. Author: Reid Bramblett