Specialty tours to Italy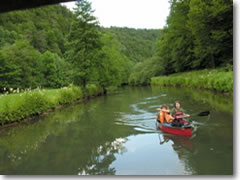 At InfoHub, paddlers can find 15 outfitters running kayak and canoe tours in Europe.
For more info:
www.infohub.com
www.shawguides.com
www.specialtytravel.com
Tours & Activities
When you tire of sightseeing tours or veg-on-the-beach holidays and are looking for some excitement from your next trip, it's time for a specialty tour.

Maybe you want to take cooking lessons in Provence, mountain-bike through Morocco, learn Spanish during a Mexican home-stay, or tour Turkey with an archeology professor.

It's a wonderfully enriching way to travel, but the well-known, widely advertised specialty tour outfits tend towards the deluxe—trips where you learn to roll pasta from a Medici countess in her Tuscan villa, or spend every night of your week-long walk through France's Dordogne Valley at five-star hotels.

That all sounds lovely—until you see the price tag. Luckily, three Web sites act as clearinghouses for thousands of specialty tour operators, outfitters, and packagers so you can pick the dream experience that best fits your budget.

One significant caveat: None of these sites rate, review, or pass judgment on the operators listed. Tour companies pay to be included and often write their own descriptions, so the summaries aren't objective. That doesn't mean these sites aren't still useful: just think of them as searchable bins of company brochures.
Specialty tour clearinghouses
Other specialty tours from InfoHub
Art Workshops & Crafts Tours
Art & Artist Vacations
Bicycle Tour Packages
Birding Tour Packages
Cooking Schools
Climbing and Mountaineering Vacations
Food & Wine Tours
Golf Resorts and Golf Vacations
Hiking, Trekking, and Walking Tours
History Vacations
Language Schools & Study Vacations
Nature and Wildlife Tours
Naturist and Nude Resorts
Photography Tours
Religion and Spirituality Tour Packages
Romantic Vacations
Sailing and Boating Packages
Scuba Diving Packages & Resorts
Spa Resorts and Spa Vacations
Sports Tour Packages
Women's Travel
InfoHub (www.infohub.com) - Casts one of the largest nets over the industry, listing some 14,000 tours offered by 4,000 operators in more than 100 categories—everything from artists' workshop to llama trekking, nudist resorts to biblical tours, language schools to personal guide services.
InfoHub's search engine returns results listed by trip rather than by company (for example, it lists more than 40 bike tours in Italy, but those are offered by just 15 companies). Still, I guess if you could care less the name of the outfitter and are just looking for a selection of 10-day bike tours across Tuscany and Umbria, this is the best way to do it.
InfoHub also has one massively useful feature none of its competitors can boast: It lists the price right on the results page, so you don't waste time chasing down trips beyond your budget.

It also has one odd drawback: for some trips (but not all), there are no direct links or contact info on the companies themselves. InfoHub asks you to complete an on-line form, and the operator then contacts you—essentially, you send away for a brochure.
You can, of course, always Google the company, but taking the extra steps is a bit annoying. (That said, I totally understand why they do this; it's a great way to ensure that the tour companies—who doubtless pay InfoHub either a commission or a fee to list them—know that it was InfoHub who sent them the business.)
No such digging is necessary with Shaw Guides (www.shawguides.com), which provides direct links to its collection of "educational travel and creative career programs." The site list some 5,800 operators in roughly 130 categories from cooking and wine to photography, cultural tourism, languages, arts and crafts, writer's conferences, and tennis and golf camps. You can browse by focus, skill level, month or season, and destination.
It does, however, do the best job of collating not only the major operators, but also the tiniest local outfitters providing walking tours of Florence or on-site safaris in Kenya. The results are less vetted than at InfoHub or STI (below), but the veritable stampede of hits from most searches leaves you spoiled for choice.

The venerable Specialty Travel Index (www.specialtytravel.com) lists a mere 300 or so companies, but they are among the crème de la crème of specialty tour operators. You can search by destination (401 countries, regions, and states) and interest/activity (341 of these).

The site is set up to lead you to an appropriate outfitter—in my peddle-versus-pasta test sampling, eight Italian bike tours to 17 cooking classes—but all you get is a few short paragraphs about each company, including contact information. The rest of the research is up to you.

A few spiffy features: a "Special Offers" section mixes last-minute deals and sales, and the "Magazine" section includes as travel stories written by pros—a nice touch, since, while articles about multisport tours of Costa Rica or golfing the great greens of Scotland are a dime a dozen, it isn't always so easy to find tales of skiing China, touring the rock churches of Ethiopia, or goat trekking in Utah to help you decide whether a particular specialty tour is right for you.
When you want just a day of alternative fun, not a whole tour
Our partners at Viator.com offer all sorts of specialty tours lasting from a few hours to all day (even a few multi-day trips) in Italy's top destinations. Whether it's horseback riding in the Chianti, a cooking class in Florence, gladiator lessons in Rome, a walking tour of Venice, hiking the Cinque Terre, a Milan outlet shopping excursion, or a wine tour of the Barolo region, it's easy to take a day away from the sightseeing rigmarole and get to know Italy from a different perspective.
Related pages
This material was last updated February 2011. All information was accurate at the time.

about | contact | faq

» THE REIDSITALY.COM DIFFERENCE «

Copyright © 2008–2013 by Reid Bramblett. Author: Reid Bramblett