Renting an apartment in Italy
Live like the locals and rent your own flat—it will likely be as cheap as (if not cheaper than) a hotel, plus will get you a kitchen and the other amenities of everyday life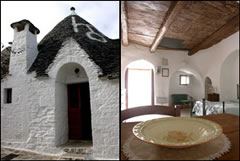 If you really want to feel like a temporary European, try renting an apartment, like this pointy trullo in the Italian town of Alberobello. After all, it's not every night you get to bed down in a genuine, UNESCO-protected piece of historic vernacular architecture—and it costs less than the hotels in town to boot.
For more info:
www.airbnb.com
www.venere.com
www.booking.com
www.rentalo.com
www.vrbo.com
www.homeaway.com
ReidsItaly.com Italy Map
»
View ENLARGED MAP with all listings
Introduction
What to expect
Resources
Tips
Sometime around day three of an apartment stay in Italy, a transformation occurs.
The welcoming '"buon giorno" you've been receiving at the neighborhood cheese shops, butchers, and bakeries grows more enthusiastic, with an obvious trace of recognition.
You find yourself in situations the weekend visitor never experiences—buying wine by the jug at a vineria, picking out tomatoes and zucchini at the local market.
The evening routine you've established includes taking a passeggiata stroll on the main drag followed by a Campari-soda at a cantina (where you're recognized as a regular with a nod from the barrista) before heading home to cook a delicious feast in your kitchen.
The fabled Italian lifestyle you've always envied is suddenly your own.
How apartment rentals in Italy work
The first thing most people get wrong about renting an apartment in Italy is they assume—wrongly—you can only rent one by the month.
In fact, while some are available only on a monthly basis, the majority of apartments in Italy are rented out by the week, or even for just three nights—and there are plenty that will rent to you for just a single night, especially in low season.
As for what you can expect to pay, there are no rules. Apartments are rented at different nightly, weekly, and monthly rates, which vary by season, number of rooms, and number of guests. Say you're renting a one-bedroom for two people for a week in a major city. Expect to pay anywhere from $25 to $300 per night in low-season, $100 to $500 per night in high season.
With you own pad, and a chance to try on the experience of living life as a Italian for a short while, shopping at the local stores and cooking meals in your own kitchen. This has the added benefit of helping you save big-time on dining expenses by limiting the number of meals you have to eat out at a restaurant. You avoid paying through the nose for a hotel breakfast, can dine at home some nights, and keep a stock of cheese, salamis, fruits, and veggies in the fridge for replenishing your daily picnic lunch supplies.
One thing you usually don't get with a short-term rental apartment is maid service—but do you really need fresh sheets every night?
Comparing apartments can seem impossible. One agency might provide floor plans, dozens of photos, and square footages. Another might have only a description like "Lovely two-bedroom apartment near the main square; from €200." Some agencies use star ratings, but there's no correlation to hotel ratings or other agency ratings. Do your homework to make sure the unit meets your expectations.
When investigating possible apartments, look closely in particular at the number of bedrooms, as well as at the number of people an apartment sleeps. More often than not, "sleeps four" means a one-bedroom unit, with two guests in the bedroom and two on a fold-out couch—fine for a family, less than ideal for two couples. Ask the owner or agency about the setup if it's not mentioned in the listing.
How to find an apartment to rent in Italy
Booking apartments in Italy
Rome (Airbnb | Booking | Venere)
Florence (Airbnb | Booking | Venere)
Venice (Airbnb | Booking | Venere)
Milan (Airbnb | Booking | Venere)
Sorrento (Airbnb | Booking | Venere)
Amalfi (Airbnb | Booking | Venere)
Positano (Airbnb | Booking | Venere)
Pisa (Airbnb | Booking | Venere)
Siena (Airbnb | Booking | Venere)
Bologna (Airbnb | Booking | Venere)
Naples (Airbnb | Booking | Venere)
Palermo (Airbnb | Venere)Apartments for rent—often referred to by the British terms "flats to let"—are widely advertised in U.S. newspaper travel sections and magazines, though that is usually the priciest way to go.
Apartments easiest to arrange through a rental consortium like those listed below, but you'll sometimes find the best deals by contacting people privately in the destination itself via local papers, English-language magazines, and the local tourist office, which will usually have a list of apartments you can contact directly as well as local agencies.
Do a lot of shopping around, ask many questions, look at pictures if you can get 'em. Work with agencies that specialize in that region or city and only ones that will help you find the place you want, not the one they want to sell you. Here are some leads.
Rental agencies and booking sites

Airbnb.com (www.airbnb.com) - Network of both official and unofficial apartments and B&Bs, including more than 1,600 apartments in Rome; 1,100 apartments in Florence; 642 apartments in Venice; and 470 apartments in central Milan. Its rates are among the lowest, most charging anywhere from $25 to $500 per night. A handful do range higher, but the important thing is that roughly 70% of the apartments cost $200 or less per night—less than most hotels.
Booking.com (www.booking.com) - A generalist booking engine is a great choice for nightly or short-term apartments. Its selection of apartments isn't quite as broad as Venere's, but well worth looking into—what do you care how broad the listing are if among them is just the place you need? By the numbers: 223 apartments in Rome, 116 in Florence, 99 in Venice.
Venere.com (www.venere.com) - Another key generalist booking engine. This major Italian booking service represents all sorts of accommodations, including "Vacation rentals" (a.k.a. apartments). Some are self-catering, but more are residence hotels (like an all-suite hotel), somewhere between an apartment and a hotel: you (usually) get a front desk and maid service (though perhaps not nightly). By the numbers: 102 apartments in Rome, 58 in Florence, 65 in Venice.
HomeAway (www.homeaway.com
) - Probably the biggest (at least when it comes to Italy), with more than 165,000 rentals around the world, including mreo than 28,000 in Italy alone—of which more than 8,847 are in Tuscany and 908 in Florence, another 1,876 in Rome, 1,202 in Umbria, 880 in Venice, and 2,053 in Sicily.
Rentalo(www.rentalo.com) - More than 120,000 properties around the world, including 601 in Rome, 246 in Venice, and 528 in Florence (how about a frescoed two-bedroom apartment in the city center for €775 a week or €130 a night?).
VRBO (www.vrbo.com
) - The names stands for "Vacation Rentals By Owners," which is (mostly) exactly what this is: it cuts out the middle man or a rental agency (and the attendant fees) by allowing those with rental homes to advertise them directly to potential vacation renters. I say "mostly" because, as you might imagine, plenty of agencies post their offering here as well, but that's OK. So long as you find the right match for you, Does the provenience of the perfect vacation home really matter? I've used this service to find everything from a flat in London to a South Carolina beach house for an extended-family vacation (by which I mean my extended family—three generations-worth—not, sadly, an extended vacation, which lasted only one week).
Belvilla (www.belvilla.org) - More than 15,000 properties in 17 countries across Europe, including some 2,600 in Italy, with good prices on quality rental homes.
Barclay International (www.barclayweb.com) - One of the world's premier rental agencies since 1963. (And yes, "premier" does mean "a bit pricey"). Excellent properties and service, though, throughout the major cities of Western Europe.


Interhome (www.interhomeusa.com) - Thousands upon thousands of apartments and villas across Europe (and, er, Florida).

Villas International (www.villasintl.com) - Long-established agency, with properties in perhaps more countries than any other.

Craigslist.org (www.craigslist.org) - The biggest virtual classifieds section lists short-term rentals all over the world. Be sure to rifle through the craigslists of most major U.S. cities—doesn't matter if you live there or not—because lots of folks post rental ads for their Rome apartment on the Craigslists for New York, Chicago, San Fran, etc.
Top tips for renting an apartment in Italy
Here are some tips to help during the booking, paying, and arrival process:
BOOKING: Getting what you pay for
Week-long rentals are typical, though some apartments are available for two or three nights at a time, especially in the off-season (winter).
Peak season is roughly Easter through October, plus Christmas (Dec 15-Jan 6).
Advanced reservations are essential. For high season, it's best to book several months, or even a full year, ahead.
Every owner bends the rules sometimes, so even if a website states that an apartment only rents by the week or longer, or that rates are completely nonnegotiable, it never hurts to inquire about flexibility. Small agencies and owners who rent one or two apartments are particularly likely to bargain during slower periods.
Bait and switch is pervasive when booking through an agency (as opposed to direct from the owner or a hotel)—whether intentional or because online databases aren't updated to reflect actual availability. Double-check that the apartment you want is the apartment you're getting. If the agency offers an alternative, make sure it's up to snuff and reasonably priced.
PAYING: Deposits and cancellations
A deposit (or caparra) will usually be necessary to hold your reservation. The amount varies: It might be the equivalent of one night's stay; it might be 30 to 50 percent of the total; it might be something totally different. The balance is due 6 to 20 days prior to arrival.
Bank wire transfers are required to rent some apartments, particularly direct-from-owner units (agencies will usually let you use a credit card). Banks in the U.S. charge $30–$50 for a transfer, and it'll take three to five business days to process.
Taxes, utilities, and an initial and final cleaning fee are frequently included in the quoted price, but that's not always the case, so ask. If the apartment has a phone, inquire whether local calls cost extra.
Expect to pay a deposit against potential damages, either through a hold on your credit card or in cash to the person who gives you the keys. The money will be refunded when you check out.
Cancellation policies vary, with refunds given on a sliding scale, meaning less money is returned the later that you cancel. The deposit is rarely refundable, though you may be able to get some of the money back if you cancel far in advance.
ARRIVING: Who will give you the key?
A representative will usually meet you at the apartment, a major landmark, train station, their own downtown office, or the local bus or metro stop nearest the apartment at a prearranged time. He or she will lead you to the flat, show you the ropes (which keys fit which locks, location of the fuse box), point out nearby markets and cafés, and provide a local number to call if you have questions.
Most kitchens come fully equipped, but double-check that this is the case if you plan on cooking. Before heading to the market, look in the cabinets. There are often some cooking staples (salt, sugar, pasta, olive oil) left by former guests.
Towels and linens are typically provided, but bring your own soap, shampoo, and toiletries; this is not a hotel.
Maid service is rare, though a few rentals offer cleaning every three days or so. Remember: You're living like a local, which includes taking out the trash and recycling. Your host will provide a schedule.
This article was written by Reid Bramblett and was last updated in May 2013. All information was accurate at the time.

about | contact | faq

» THE REIDSITALY.COM DIFFERENCE «

Copyright © 2008–2013 by Reid Bramblett. Author: Reid Bramblett