All the Berninis in Rome
A cheat sheet list of where to find Gianlorenzo Bernini's top sculptures, architecture, and paintings (yes, he painted) in Rome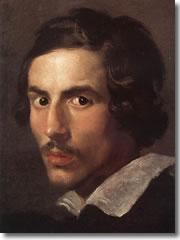 Self-portrait of Gianlorenzo Bernini c.1623 (age 25) Gianlorenzo Bernini (1598–1680; sometimes his first name is spelled out in full as Giovanni Lorenzo Bernini) was perhaps the greatest sculptor of the baroque era—not to mention a genius architect and quite a fine painter (that's a self-portrait on the left).
Bernini's sculptures are full of life, vitality, and movement, the subjects often caught in a moment of action, the flowing robes and drapery flapping in the wind. Bernini's works are the epitome of the baroque's extravagant theatricality (against the often staid, posed, clam of the Renaissance).
Rome Sights By Category
• Top Sights
• Museums
• Ancient sites / ruins
• Churches
• Piazze & fountains
• Reid's list
• Free sights
• Michelangelo's Rome
• Bernini's Rome
• Caravaggio's Rome Despite what Dan Brown wrote in Angels & Demons, Bernini's art does not comprise some kind of giant, Roman-spanning baroque geocaching map of clues to a dark and dangerous secret.
Bernini did, however, leave scores of works scattered all around the city, from public fountains and church interiors to exquisite sculptures in private collections and paintings in public galleries.
Here is where you can find many of Bernini's major works in Rome.
Tips
Take a Bernini tour: Take a tour of Bernini sights:


Related pages
This article was written by Reid Bramblett and was last updated in April 2013. All information was accurate at the time.

about | contact | faq

» THE REIDSITALY.COM DIFFERENCE «

Copyright © 2008–2013 by Reid Bramblett. Author: Reid Bramblett