Shopping for Venetian glass and Murano chandeliers in Venice
I've heard tell that there are more than 1,000 glass shops in the San Marco district alone.
That's a lot of glasswares.
It's also not surprising to anyone who has walked the streets of Venice, where every little hole-in-the-wall shop and big, touristy boutique seems to sport a display of delicate and colorful examples of the glassmaker's art.
Quality varies tremendously, and many of the items are actually machine-produced or crafted anywhere from Eastern Europe to Taiwan, but the best rule of thumb is simply to buy it if you like it and to blazes with its provenance.
For glass, you really should head out to Murano—to which the city fathers moved Venice's glass indsutry in 1291 as a precaution against fire—but most of the great glass-makers also have showrooms in downtown Venice:
Make your own Venetian glass souvenir
Want to try your own hand at making some Venetian glass? Maestro Massimiliano Caldarone offers 75-minute glass-making lessons at his Cannaregio bottega (workshop).
Venetian Glass tours
Enjoy 3 days in Venice Island. This independent tour includes the Gondola ride,
Venice Island Lagoon: Murano, Burano and Torcello. Also arrival and departure transfers are included.
Day 1 – Venice - Gondola
Arrival at the ariport and transfer to Venice by car up to Piazzale Roma, if you choose this option. Venezia, La Serenissima, Queen of the Adriatic, city of canals and palaces. Take a walking tour of the area between Piazza San Marco and the Rialto Bridge, and pass through la Fenice Theatre, Scala del Bovolo, Ponte di Rialto. At the end of the visit, you'll embark on a gondola for a 30-minute ride along the Grand Canal and minor channels (Reach the meeting point for the tour in St Mark Square on your own). Overnight in Venice Island Hotel.
Day 2 – Venice Island Tour
After breakfast, take the Venice Islands tour from Alilaguna's Pier at St. Mark's waterfront. Embark on a motorboat and visit the Island Murano, where one can watch the antique art of glass making. The last Island is Torcello, with its old cathedral and its atmosphere of remote Venetian past (Reach the meeting point for the tour in St Mark Square on your own). Overnight in Venice Island Hotel.
Day 3 – Venice 
Breakfast in the Hotel. In the morning departure to Venice airport or to your next destination. Tour Ends.
(no rating)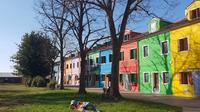 A private 2-day tour to fully experience the City of Bridges, discovering its secrets and exploring it from every corner with a professional local guide, who will tell you about history, art, culture and architecture.
With the skip-the-line access to Doge's Palace and Basilic, you will not waste precious time to admire the beauties of these two majestic symbols of Venice.
The first day, a 4.5 hour tour, includes the main highlights of the City as the Rialto Bridge, Doge's palace, Basilic and much more....
What a better way to end your first day in Venice with a romantic gondola ride through the Grand Canal!
On your second day, you will have the privilege to admire Venice by sea with its three major islands of the Lagoon in a 6-hour boat tour: Murano, Burano and Torcello!
Sailing with a private boat through the islands, it's a unique emotion!
1st day: Let's start your adventure from San Marco Square, the heart of the City. Your first stop will be The Doge's Palace. Don't worry about the queue! With the skip-the-line access, you will be among the first to enter. The ancient seat of the Doges today is a beautiful museum , where it is possible to admire the wonderful frescoed halls by Tintoretto.Through the famous Bridge of Sights, you will reach the new prisons, where famous characters were imprisoned such as Giacomo Casanova and Silvio Pellico. Next, you will visit the Basilic, with its beautiful marbles interiors and the golden mosaic that fills almost all the interior. Leaving behind the magic of Piazza San Marco, you will head to wonderful places like Campo San Giavanni e Paolo, The Church of Holy Apostols, Santa Maria Formosa Camp, passing by Fondamenta Nova, a long promenade from where you can enjoy a great view of the Venetian Lagoon. Venice is a city full of curiosity, that's why you will visit Marco Polo's House. It will be incredible to hear from your guide the story of this famous explorer born in this city! The tour will end with a magic stroll on The Rialto Bridge, the most romantic Italian bridge.You cannot miss a relaxing Gondola ride, through the Canal Grande. Let yourself be lulled by the waves, admiring this romantic and marvelous city!Your second day tour will take you into the fabulous reality of the Venetian Lagoon with a 6-hour private boat tour through the islands! Your first stop will be Murano Island, the famous blown glass island, also known as the small Venice because is composed from 9 small islands joined togeher by little bridges. It's a wonderful place made of characteristic houses and shops that sell glass objects and furnaces.You will attend to a demonstration of an expert glass maker. Then you will navigate towards Burano Island. A true pearl of the Lagoon covered by vivid colored houses, small bridges and its crooked bell tower! Burano is famous all over the world for its production of lace. Last but no least, you will discover Torcello Island, the most peaceful and quiet island of the lagoon! Before reaching Santa Maria Assunta Basilic, you can admire the famous Devil's Bridge from which you can take pictures of the whole landscape of the island and Torcello Museum divided into the archeological and medieval and modern areas. The Basilic, together with the Santa Fosca Church, is one of the oldest buildings of the lagoon, famous for its interior mosaics. The ideal place to spend some relaxing hours !
(no rating)
More tours
Tips
Go to the source: Murano
The best blown glass is actually out on the island of Murano, which is where "Venetian" glass originated. » more
Haggle
Don't be afraid to bargain, especially if you're buying more than one item.
Let them mail it home for you
They have loads of experience packing glass so it doesn't break.
Would you really carry the thing around in your bag from hotel to hotel, running with it to catch trains and slinging it into the trunk of your rental car, only then to entrust your delicate glass baubles to the airline baggage handlers? Nope.
Accept the shipping cost as part of the price of buying the glass.
Buy with your instincts
If your idea of the perfect blown-glass souvenir is a tiny glass gondola, or a touristy glass Carnival mask, or even a glass Homer Simpson (with or without pornographically enormous phallus), that is precisely what you should buy.
Be happy with your purchase.
When I was 11, I bought—from some nondescript Venetian glass shop—a tiny black cat and spent the next several years (and several moves) carefully keeping its impossibly delicate glass whiskers, thinner than a human hair, from snapping off.
Gift suggestion
Blown glass Christmas tree ornaments are both very Venetian and quite classy to give as presents.
Related
Also in Shopping in Venice:
Related pages
Similar interests