The most famous fresco in the world: from Michelangelo's famous ceiling to his Last Judgment and the sadly overlooked walls by Perugino, Botticelli, and Signorelli
The pinnacle of Renaissance painting and masterpiece of Michelangelo covers the ceiling and altar wall of the Sistine Chapel, the grand hall where the College of Cardinals meets to elect a new pope.
Pope Sixtus IV had the Sistine's walls frescoed with scenes from the lives of Moses (left wall) and Jesus (right wall) by the greatest masters of the early Renaissance: Botticelli, Ghirlandaio, Perugino, Pinturicchio, Rosselli, and Signorelli.
Each of these would be considered a masterpiece in its own right... if they weren't literally overshadowed by that famous ceiling.
The Sistine Chapel ceiling
Pope Julius II had hired Michelangelo to craft a grand tomb for him, but then pulled the sculptor off the job and asked him instead to decorate the chapel ceiling—which at that time was done in the standard Heavens motif, dark blue with large gold stars.
Michelangelo complained that he was a sculptor, not a frescoist, but a papal commission cannot be ignored.
Luckily for the world, Michelangelo was too much of a perfectionist not to put his all into his work, even at tasks he didn't much care for, and he proposed to Julius that he devise a whole fresco cycle for the ceiling rather than just paint "decorations" as the contract called for.
At first Michelangelo worked with assistants as was the custom, but soon found that he was not a good team player and fired them all. And so, grumbling and irritable and working solo, he spent 1508 to 1512 daubing at the ceiling, craning his neck, arching his back, and with paint dripping in his eyes and an impatient pope looking over his shoulder. 
When the frescoes were unveiled, it was clear that they had been worth the wait. Michelangelo had turned the barrel-vaulted Sistine Chapel ceiling into a veritable blueprint for the further development of Renaissance art, inventing new ways to depict the human body, new designs for arranging scenes, and new uses of light, form, and color that would be embraced by several generations of painters.
The scenes along the middle of the ceiling are taken from the Book of Genesis and tell the stories of Creation (the first six panels) and of Noah (the last three panels, which were actually painted first and with the help of assistants).
In thematic order, they are: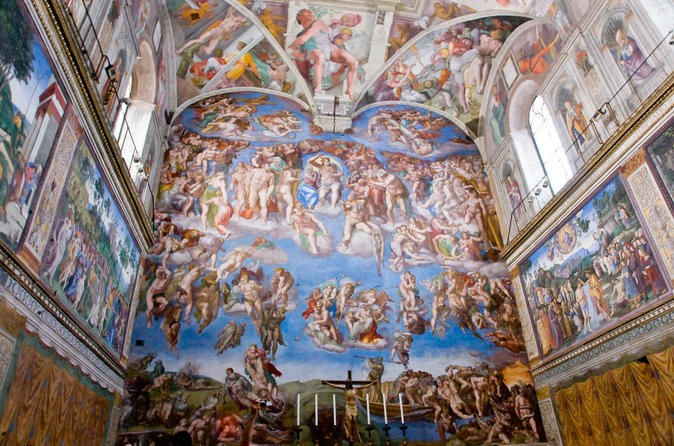 See the Vatican as VIPs do, with this once-in-a-lifetime private Sistine Chapel viewing and tour of the Vatican Museum's secret rooms. This exclusive gives you unprecedented VIP access to the magnificent rooms usually off-limits to the public... Duration: 3 hours; Cost: $428 per person
Separation of Light from Darkness
Creation of the Sun, Moon, and Planets (scandalous for showing God's derriere and the dirty soles of his feet)
Separation of the Waters from the Land
the fingers-almost-touching artistic icon of the Creation of Adam
Creation of Eve (enticed from Adam's ribcage by God)
Temptation and Expulsion from the Garden (notice how the idealized Adam and Eve in paradise become hideous and haggard as they're booted out of Eden)
The Sacrifice of Noah
The Flood
The Drunkenness of Noah (ah, yes, mankind immediately falls back into sin, does he not?)
These central scenes are bracketed by a painted false architecture to create a sense of deep space (the ceiling is actually nearly flat), festooned with chubby cherubs and 20 ignudi, nude male figures reaching and stretching, twisting and turning their bodies to show off their straining muscles and naked male physiques—one of Michelangelo's favorite theme, if you catch my drift.
"Until you have seen the Sistine Chapel, you can have no adequate conception of what man is capable of accomplishing." 
—Goethe 
Where the slight curve of the ceiling meets the walls, interrupted by pointed lunettes, Michelangelo ringed the ceiling with Old Testament prophets and ancient Sibyls (sacred fortune-tellers of the Classical age in whose cryptic prophecies medieval and Renaissance theologians liked to believe they found specific fortellings of the coming of Christ).
The triangular lunettes contain less impressive frescoes of the Ancestors of Christ, and the wider spandrels in each corner depict Old Testaments scenes of salvation.
A lengthy and politically charged cleaning from 1980–90 removed centuries of dirt and smoke satins from the frescoes, although the merits of the restoration are still hotly debated. The techniques used and the amount of grime—and possibly paint—taken off are bones of contention among art historians; some even maintain that later additions, detailing, or shading by Michelangelo were lost during the cleaning.
Michelangelo's Last Judgment
In 1535, at the age of 60, Michelangelo was called in, once again, to paint the entire end wall with a Last Judgment—a masterwork of color, despair, and psychology finished in 1541.
The aging master carried on the medieval tradition of representing saints holding the instruments of their martyrdom—St. Catherine carries a section of the spiked wheel with which she was tortured and executed; St. Sebastian clutches some arrows.
Look for St. Bartholomew holding his own skin and the knife used to flay it off. St. Bart's face (actually a portrait of the poet Pietro Aretino) doesn't match that of his skin's. Many hold that the droopy, almost terminally morose face on the skin is a psychological self-portrait of sorts by Michelangelo, known throughout his life to be a sulky, difficult character (and most likely a severe manic-depressive).
The master was getting old, Rome had been sacked by barbarians a few years earlier, and both he and the city were undergoing religious crises—not to mention that Michelangelo was weary after years of butting his artistic head against the whims and directives of the Church and various popes who were his patrons.
In the lower right corner is a political practical joke—there's a figure portrayed as Minos, Master of Hell, but it is in reality a portrait of Biagio di Cesena, Master of Ceremonies to the pope and a Vatican bigwig who protested violently against Michelangelo's painting all these shameless nudes here (although some of the figures were partially clothed, the majority of the masses were originally naked). 
As the earlier Tuscan genius Dante had done to his political enemies in his poetic masterpiece Inferno, so Michelangelo put Cesena into his own vision of Hell, giving him jackass ears and painting in a serpent eternally biting off his testicles. Furious, Cesena demanded that the pope order the artist to paint his face out, to which a bemused Pope Paul III reportedly replied "I might have released you from Purgatory, but over Hell I have no power."
Twenty-three years and several popes later, the voices of prudence (in the form of Pope Pius IV) got their way and one of Michelangelo's protégés, Daniele da Volterra, was brought under protest in to paint bits of cloth draped over the objectionable bits of the nude figures.
"The Last Judgment looks like the canvas of a fair, painted for a wrestling booth by an ignorant coal heaver." 
—Guy de Maupassant
These loincloths stayed modestly in place until many were removed during a recent and, yes, controversial cleaning that ended in 1994. Some critics of this restoration claim, among other things, that Michelangelo himself painted some of the cloths on after he was done and that too many were removed; other wanted all of the added draperies stripped from the work. It seems that the compromise, with the majority of figures staying clothes but a few bare bottoms uncovered, pleased nobody.
One thing is for certain. Since the restorations of both the ceiling and the Last Judgment, Michelangelo's colors just pop off the wall in warm yellows, bright oranges, soft flesh-tones, and rich greens set against stark white or brilliant azure backgrounds.
Many still prefer the dramatic, broodingly somber and muddled tones of the pre-cleaning period. For all the controversy, the revelations provided by the cleanings have forced artists and art historians to reevaluate everything they thought they knew about Michelangelo's color palette, his technique, his painterly skills, and his art.
Tips
How long does the Sistine Chapel take?
You can "see" the Sistine in all of five minutes, but most people spend at least 20–30 minutes in here, drinking in all the details. I'd give it an hour, but that's just me.
Sistine Chapel rules
Photography and talking are not allowed in the Sistine Chapel, which is why tour groups clot the long Hall of Maps and Hall of Tapestries leading here as their guides discuss what they're about to see, loud "SHHHHHHs!" issue regularly from hidden speakers, and everyone stands around nonchalantly trying to look like they're not holding their cameras, smartphones, and camcorders by their waists and pointed at the ceiling to take a series of off-kilter shots.
Private viewings of the Sistine Chapel
No, you don't have to be the Pope to get a private tour of the Sistine Chapel with nobody else around but your art historian guide, a few guards, and the other 19 people in your group (OK, so it's "semi-private"). You do, however, need to come up with around $430. 
These private, after-hours tours of the Vatican Museums last two hours, and are available only two to four times per month. By definition, supply is extremely limited, and as you might imagine, these special visits book up pretty fast. 
You can arrange a private visit to the Sistine Chapel via a handful of tour companies, including our partners at Viator.com (conveniently, their rates are among the cheapest I've seen—not bad, considering the the Vatican charges them $3,000 to "rent the room," as it were). » book
How long do the Vatican Museums take?
Spend all day at the Vatican. Two days if you can swing it.
Even on a tight schedule, expect to spend at least 2–3 hours in the museums themselves, plus another hour St. Peter's around the corner. They're worth it.
Warning: The ticket office closes 2 hours before the museum, with the last entry at 4pm.
Book ahead
You can book Vatican entry tickets ahead of time to help avoid the lines, which can last for up to an hour or so in the summer. However, this adds a €4 fee to the already steep admission of €17. Or you can do it online via one of our partners:
Dress code?
Recently, the Vatican (or at least some guards) seems to have decided that you must dress "appropriately" to visit any part of Vatican City—including the museums—and not just St. Peter's, where a dress code has long applied.
Err on the side of caution and make sure you arrive with no bare shoulders, knees or midriffs.
That means: no shorts, no miniskirts, no sleeveless shirts or blouses, no tank-tops. Also, no hats.
(If it's hot and you want to wear a tank top around town that day, just bring a light shawl to cover your shoulders while inside.)
Also, you cannot bring into the museum any bag or backpack larger than 40cm x 35cm x 15cm (roughly 16" x 14" x 6")—there is a cloackroom where you can leave it.
Admission quirks: When the Vatican is free, closed, crowded, open late, etc.
The Vatican Museums are free on the last Sunday of each month, when they stay open until 2pm (last entry: 12:30pm). This, however, is no secret, so they are also intensely crowded.
On any other Sunday, however, the Vatican Museum are closed—and if that final Sunday of the month happens falls on a church holiday (see below), they also remain closed.
The Vatican is also free on Sept. 27 (World Tourism Day).
Vatican most crowded on Sun and Wed
The Vatican Museums are most crowded on Sundays (because they're free) and many Wednesdays (because in the morning St. Peter's itself is often closed for the papal audience in the piazza, so everyone who doesn't have tickets walks around the walls to kill time inside the museums, and by afternoon all the audience-goers join them).
Open late on summer Fridays
The Vatican has been experimenting with reopening the museums on Friday evenings spring through fall allowing a limited number of visitors—upon advance booking only—to wander the mooonlit galleries without the crowds.
Galleries open on Friday nights:
To book: Viator.com
Vatican closed on church holidays
The Vatican Museums are closed on all church holidays: Jan. 1, Jan. 6, Feb. 11, Mar. 19, Easter Sunday and Monday, May 1, June 29 (Feast of St. Peter and Paul—major Roman holiday), Aug. 14–15 (everything is closed in Rome on Aug. 15; head to Santa Maria Maggiore for mass with a "snowfall" of rose petals), Nov. 1, Dec. 25 (Merry Christmas!), and Dec. 26 (Santo Stefano—huge in Italy).
Last entry: 4pm
Note that the Vatican Museums close surprisingly early (last entry at 4pm, doors close 6pm).
So see the Museums first, then walk around the walls to visit St. Peter's.
How to get to the Vatican Museums
Cipro-Musei Vaticani is the closest Metro stop (on the A line, about 5 blocks northwest of the entrance; just follow the crowds).
Otherwise, bus 49 stops right in front of the museum entrance (you can catch it from Piazza Cavour, or anywhere along Via Cescenzio, which starts at the northwestern tip of the piazza, near Castel Sant'Angelo).
You can also take bus 490 or 492 to Via Candia (two blocks north of the entrance), or one of many bus lines to Piazza del Risorgimento, tucked into a inside corner of the Vatican walls a short walk east of the musuems entrance: 23, 32, 81,Tram 19, 81, 492, 590, 982, and 990.
Useful Italian phrases
Useful Italian for sightseeing
| | | |
| --- | --- | --- |
| English (inglese) | Italian (italiano) | Pro-nun-cee-YAY-shun |
| Where is?... | Dov'é | doh-VAY |
| ...the museum | il museo | eel moo-ZAY-yo |
| ...the church | la chiesa | lah key-YAY-zah |
| ...the cathedral | il duomo [or] la cattedrale | eel DUO-mo [or] lah cah-the-DRAH-leh |
|   |   |   |
| When is it open? | Quando é aperto? | KWAN-doh ay ah-PAIR-toh |
| When does it close? | Quando si chiude? | KWAN-doh see key-YOU-day |
| Closed day | giorno di riposo | JOR-no dee ree-PO-zo |
| Weekdays (Mon-Sat) | feriali | fair-ee-YA-lee |
| Sunday & holidays | festivi | fe-STEE-vee |
|   |   |   |
| ticket | biglietto | beel-YET-toh |
| two adults | due adulti | DOO-way ah-DOOL-tee |
| one child | un bambino | oon bahm-BEE-no |
| one student | uno studente | OO-noh stu-DENT-ay |
| one senior | un pensionato | oon pen-see-yo-NAH-toh |
Basic phrases in Italian
| | | |
| --- | --- | --- |
| English (inglese) | Italian (italiano) | pro-nun-see-YAY-shun |
| thank you | grazie | GRAT-tzee-yay |
| please | per favore | pair fa-VOHR-ray |
| yes | si | see |
| no | no | no |
| Do you speak English? | Parla Inglese? | PAR-la een-GLAY-zay |
| I don't understand | Non capisco | non ka-PEESK-koh |
| I'm sorry | Mi dispiace | mee dees-pee-YAT-chay |
| How much is it? | Quanto costa? | KWAN-toh COST-ah |
| That's too much | É troppo | ay TROH-po |
|   |   |   |
| Good day | Buon giorno | bwohn JOUR-noh |
| Good evening | Buona sera | BWOH-nah SAIR-rah |
| Good night | Buona notte | BWOH-nah NOTE-tay |
| Goodbye | Arrivederci | ah-ree-vah-DAIR-chee |
| Excuse me (to get attention) | Scusi | SKOO-zee |
| Excuse me (to get past someone) | Permesso | pair-MEH-so |
|   |   |   |
| Where is? | Dov'é | doh-VAY |
| ...the bathroom | il bagno | eel BHAN-yoh |
| ...train station | la ferroviaria | lah fair-o-vee-YAR-ree-yah |
| to the right | à destra | ah DEH-strah |
| to the left | à sinistra | ah see-NEEST-trah |
| straight ahead | avanti [or] diritto | ah-VAHN-tee [or] dee-REE-toh |
| information | informazione | in-for-ma-tzee-OH-nay |
Days, months, and other calendar items in Italian
| | | |
| --- | --- | --- |
| English (inglese) | Italian (italiano) | Pro-nun-cee-YAY-shun |
| When is it open? | Quando é aperto? | KWAN-doh ay ah-PAIR-toh |
| When does it close? | Quando si chiude? | KWAN-doh see key-YOU-day |
| At what time... | a che ora | a kay O-rah |
|   |   |   |
| Yesterday | ieri | ee-YAIR-ee |
| Today | oggi | OH-jee |
| Tomorrow | domani | doh-MAHN-nee |
| Day after tomorrow | dopo domani | DOH-poh doh-MAHN-nee |
|   |   |   |
| a day | un giorno | oon je-YOR-no |
| Monday | Lunedí | loo-nay-DEE |
| Tuesday | Martedí | mar-tay-DEE |
| Wednesday | Mercoledí | mair-coh-lay-DEE |
| Thursday | Giovedí | jo-vay-DEE |
| Friday | Venerdí | ven-nair-DEE |
| Saturday | Sabato | SAH-baa-toh |
| Sunday | Domenica | doh-MEN-nee-ka |
|   |   |   |
| Mon-Sat | Feriali | fair-ee-YAHL-ee |
| Sun & holidays | Festivi | feh-STEE-vee |
| Daily | Giornaliere | joor-nahl-ee-YAIR-eh |
|   |   |   |
| a month | una mese | oon-ah MAY-zay |
| January | gennaio | jen-NAI-yo |
| February | febbraio | feh-BRI-yo |
| March | marzo | MAR-tzoh |
| April | aprile | ah-PREEL-ay |
| May | maggio | MAH-jee-oh |
| June | giugno | JEW-nyoh |
| July | luglio | LOO-lyoh |
| August | agosto | ah-GO-sto |
| September | settembre | set-TEM-bray |
| October | ottobre | oh-TOE-bray |
| November | novembre | no-VEM-bray |
| December | dicembre | de-CHEM-bray |
Numbers in Italian
| | | |
| --- | --- | --- |
| English (inglese) | Italian (italiano) | Pro-nun-cee-YAY-shun |
| 1 | uno | OO-no |
| 2 | due | DOO-way |
| 3 | tre | tray |
| 4 | quattro | KWAH-troh |
| 5 | cinque | CHEEN-kway |
| 6 | sei | say |
| 7 | sette | SET-tay |
| 8 | otto | OH-toh |
| 9 | nove | NO-vay |
| 10 | dieci | dee-YAY-chee |
| 11 | undici | OON-dee-chee |
| 12 | dodici | DOH-dee-chee |
| 13 | tredici | TRAY-dee-chee |
| 14 | quattordici | kwa-TOR-dee-chee |
| 15 | quindici | KWEEN-dee-chee |
| 16 | sedici | SAY-dee-chee |
| 17 | diciasette | dee-chee-ya-SET-tay |
| 18 | diciotto | dee-CHO-toh |
| 19 | diciannove | dee-chee-ya-NO-vay |
| 20 | venti | VENT-tee |
| 21* | vent'uno* | vent-OO-no |
| 22* | venti due* | VENT-tee DOO-way |
| 23* | venti tre* | VENT-tee TRAY |
| 30 | trenta | TRAYN-tah |
| 40 | quaranta | kwa-RAHN-tah |
| 50 | cinquanta | cheen-KWAN-tah |
| 60 | sessanta | say-SAHN-tah |
| 70 | settanta | seh-TAHN-tah |
| 80 | ottanta | oh-TAHN-tah |
| 90 | novanta | no-VAHN-tah |
| 100 | cento | CHEN-toh |
| 1,000 | mille | MEEL-lay |
| 5,000 | cinque milla | CHEEN-kway MEEL-lah |
| 10,000 | dieci milla | dee-YAY-chee MEEL-lah |

* You can use this formula for all Italian ten-place numbers—so 31 is trent'uno, 32 is trenta due, 33 is trenta tre, etc. Note that—like uno (one), otto (eight) also starts with a vowel—all "-8" numbers are also abbreviated (vent'otto, trent'otto, etc.).