How to rent a bicycle in Rome
First things first: Car traffic in Rome is crazy, so riding a bike in Rome should be attempted only if you're used to biking in city traffic.
That, or stick to renting a bike in the Villa Borghese park, or one to explore the Via Appia Antica on a Sunday (when that road is closed to motor vehicles).
You can take bike tours, or simply rent a bike and go it on your own.
Renting a bike in Rome
Frustratingly, Rome has had multiple municipal bike sharing programs that keep failing. Hopefully, the one that started in the fall of 2017 (and was still going strong at the time of publication) will stick around.
It's called oBike (O.bike), and it works by downloading an app, putting down a refundable €15 ($18) deposit (credit card or PayPal), topping it up with some euros, scanning the QR code on any of Rome's 1,200 yellow-and-silver oBikes (find them using the app; you can even reserve one for up to 10 minutes) to unlock the tire lock, and riding away. You lock it by hand when you are done. It costs €0.50 ($1) every 30 minutes.  
If all that is too complicated, there are still plenty of old-school private bike rental outfits, including:
The cost for renting a bicycle in Rome are pretty standard across most companies: about €4 ($5)–€5 ($6) per hour or €10 ($12)–€20 ($24) per day.
Rome tours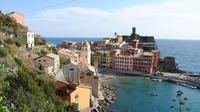 Start your trip with a Rome airport pick-up on Day 1 and explore the city with a bike and food tour on Day 2. Take a bus to Florence on Day 3 and go on the Cinque Terre trek to see colourful cliffside villages on Day 4. Enjoy a self-guided tour of Florence and the museum where Michelangelo's David is housed on Day 5 and enjoy a free day in this magical city on Day 6 before catching a night bus to Nice. Enjoy a free day in Nice on Day 7 and visit Monaco and Eze on a tour on Day 8 before catching a night bus to Barcelona. Enjoy a free day in Barcelona on Day 9 and take a Gaudi walking tour to see its unique architecture on Day 10. Take a train to Seville on Day 11 and enjoy a traditional Flamenco show on Day 12. Catch a train to Madrid on Day 13, see the city with a bike tour on Day 14, and end your trip on Day 15 with a Madrid airport drop-off.
Day 1: Rome Airport Pick-Up
Upon arrival at the airport, we'll transfer you to your accommodation. Enjoy the rest of the day at your leisure.
Day 2: Rome Bike & Food Experience
Embark on a fun city and foodie bike tour to see Rome's most famous and historic sites. Pass by the Colosseum, the Pantheon, the Roman Forum, the Jewish Ghetto and the Trevi Fountain. Free time afterwards.
Day 3: Bus Rome to Florence
Make your own way to the station to catch a bus to Florence. Make your own way to accommodation and enjoy the rest of the day at leisure.
Day 4: Cinque Terre Trek
Arrive in the Cinque Terre village of Manarola to hike along ancient cliffside trails to Corniglia. Then, continue to pretty Vernazza and Monterosso, with free time to taste wine or swim in the sea. Next, a boat ride (weather permitting) to Riomaggiore, where we finish along the famous path of Via dell'Amore, "Lover's Lane", a walkway above the sea.
Day 5: Accademia Museum & Florence Self-Guided Tour
The lines at the Accademia Museum can eat up half your day, but with this tour, you'll get a pass that allows you to skip lines in addition to a hand-held electronic guide of the city.
Day 6: Florence Free Day - Night Bus to Nice
Enjoy a full free day in this enchanting city. Stroll marketplaces, sit in classic cafés, and indulge in authentic Italian food before the overnight bus to Nice, France.
Day 7: Nice Free Day
Check-in to Nice. Free time.

Day 8: Monaco & Eze Day Tour - Night Bus to Barcelona
Start with a French Riviera day tour to Eze. Then, cross through La Turbie and into Monaco. See old town, the historic Royal Palace, the city's central cathedral or its famous Cousteau Oceanographic Museum. Visit the Formula One Grand Prix circuit and Casino Square. You'll be dropped back off in Nice to make your way to your overnight bus to Barcelona.
Day 9: Barcelona Free Day
Upon arrival in Barcelona, make your own way to accommodation. Free time.

Day 10: Gaudi Explorer Walking Tour
A tour takes you through beautiful Barcelona to the buildings of Antoni Gaudi, from the Casa Batlló to Sagrada Familia.
Day 11: Train Barcelona to Seville
Make your own way to the station to catch your train to Seville. Free time.

Day 12: Flamenco Show
Tonight, take a seat in the Tablao Flamenco El Arenal in Seville to enjoy a captivating 2-hour Flamenco dance show.

Day 13: Train Seville to Madrid
Check out and make your own way to the station to catch a train to Madrid and check-in. Free time.
Day 14: Madrid Bike Tour
Today, discover all of Madrid's highlights on a 3-hour bike tour! Cruise through the city's important landmarks like the Royal Palace and Plaza de Mayor.

Day 15: Madrid Airport Drop-Off
Transfer to Madrid Airport for your departing flight.
(no rating)
Rent your trekking bike for two full days and discover the monuments and landmarks of Rome. Have the full freedom to see and do exactly what you like.
Three thousand years of history, 16% of cultural property of the whole planet and 40,000 hectares of protected green areas, is what you can find in a city considered to be one of the Seven Wonders of the Modern World, UNESCO heritage. Too big to be visited on foot and too beautiful and precious to be quickly visited by a motor vehicle, Rome by bike is the best way to appreciate the Eternal City.
Collect your bike just fifty meters away from the Colosseum, a perfect starting point for tourists discovering Rome. Enjoy a bike provided with front suspensions and increased tires for comfort and safety on cobblestone and the rough terrain of the urban Villas and Appia Antica.
Please note that, due to insurance reasons, you can use the bike every day from 9am to 8pm and it has to be returned every evening.
(no rating)
Pedal assisted Electric bikes: the smart, economical and ecological way to live and tour Rome - "Looser" than a scooter, "slicker" than a Segway, more "open" than an open bus - Gain access to every corner of the city on your own, using our complimentary map we'll to tour the Eternal City.
Our pedal assisted electric bikes will allow you to climb the Roman hills with no effort and give you the opportunity to admire most of the wonders of Rome in few hours. You will be thrilled traveling around the City riding an electric bicycle: ecological, absolutely manageable, usable by anyone and in any condition, and last but not least safer than a normal bike
Electric bikes: the bright new way to tour
Aside from walking, riding a bike is the most "natural" and ecological way of moving. Both because there is no combustion engine involved and because most of us have the neurological ability to bike since very early in life.
Nevertheless, biking through the eternal city can be challenging, owing to the many hills that make the geography of Rome so fascinating (they are far more of the proverbial seven on which the ancient city was founded).
And here's where the Pedelecs (pedal-assisted electric cycles) kicks in: keeping biking natural (and eco-friendly) though eliminating the efforts (and sweating) normally associated with pedaling, has been attained by adopting electric bicycles as the transport means of election for the tours.
In short, thanks to the Pedelec you can reach any place you would get to by walking (including pedestrian areas, monuments and parks), enjoying the pleasure of not being on a car or bus, but far faster than you would do on your feet, getting the most out of the time you're given.
Moreover, electric bicycles have been found extremely fun by youngsters and very easy to manage by seniors.
Notice for 2 and 3 days rentals only: please note that, due to insurance reasons, you can use the bike every day from 9am to 8pm and it has to be returned every evening.
(no rating)
More tours
Tips
Always on a Sunday
On Sundays, though, when traffic is relatively light, renting a bike or a Vespa can actually be pleasant. In particular, I enjoy biking the Appian Way on Sundays, when its closed to traffic (though you'll want a mountain bike for this, given the massive ancient flagstones).
Related
Also in Getting around Rome:
Related pages